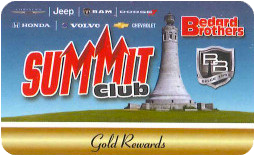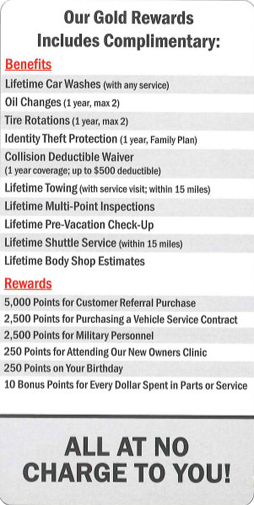 Bedard Brothers Rewards
When you purchase a vehicle from Bedard Brothers you are automatically enrolled in the Summit Club Rewards Program. You start earning rewards the day you purchase your vehicle! We award you points for every dollar you spend in our service, parts or accessory departments. These points can be used for future discounts. We even award you with bonus points just for having a birthday or referring your friend to us. Our success is predicated on building a solid foundation and "partnering" with you. Our Summit Club Rewards is provided to you at No Cost. Your purchase decision today will ensure you get the rewards you deserve.
Your Vehicle Website
As part of the Summit Club you will have your own web site that is designed to assist you in managing your vehicle service records and your accumulation of points. There is a mailbox where discount coupons we will send you are stored along with other important information concerning your vehicle. To access your website click on the Rewards icon, log in using your personal email address and create a password.
Your Reward Points
You earn 10 points for every dollar spent in service and parts, plus you earn bonus points for everything from having a birthday to referring a friend. What can you redeem them for? It's simple, your points can be used for service* or saved and they're worth double** if used toward the purchase of your next vehicle!
*Maximum $250 benefit per vehicle service.
**Maximum $500 benefit per vehicle purchase.